The Pistol Section meets every Thursday night @ 6:00 pm for practice.  In the winter months practice is at the Indoor Range.  In the summer months – starting April 23rd, practice is at the 50m Pistol Range.
The 50 Meter range is restricted to pistols and shotguns only.  Rifles are prohibited on this range. Range is open from dawn 'till dusk.
Using your main gate key you will be able to access the CRGC main road that leads to all of the outdoor ranges. Keys are only available to current members. See the membership section for details.  Once inside the main gate, after locking it behind you, continue up the road to the second gate. With your 2nd key go through the 2nd gate, locking it behind you, and continue up the road.  The 50m Pistol Range is the last left once you pass the 2nd gate.  If you go to the shotgun range you have gone too far.
Each range has a large parking area.  Some guidelines for the range are;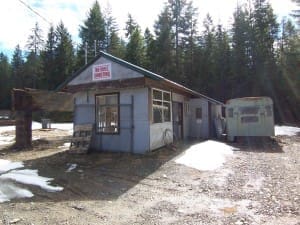 READ and obey the posted range rules and all signs.

If there is 2 or more shooters, 1 of the shooters must be designated as a Range Officer. The RO will co-ordinate target changes and enforce the posted Range Rules

Don't block any of the sliding doors on the building

Don't block any of the driveways or range roads

Keep your vehicles locked at all times

Do not leave food or garbage on or around the range

Vehicles can be used to place targets downrange

Always handle or store your firearms in a safe manner

No alcohol or drug use is permitted

Please clean up after your shooting, brass in the bucket, old targets in the garbage and don't be afraid to dump the garbage can into the Trap Range dumpster
Once inside the 50m Pistol Range building all members and guests are required to sign in at the door.  After signing in you will find room for everyone and tables that run the full width of the building.
Amenities include an emergency phone system with instructions for use, power outlets at each post and lights that run the entire length of the building.  The range itself is equipped with overhead baffles for safety.  Please do not shoot into or post targets on these baffles.